Free shipping on orders above $125
Login
Log in if you have an account
Dont have an account? Register
Help and Support
Need help?
Things might look and act a little different.
As of October 2016 we moved our website from one platform to another. This lets us do all kinds of things, but it also meant that some of the old login and order information had to be left behind. We have it all so if you have a question - please contact us and we'll lookup whatever you need. But it does mean you'll need a new login for this version of the website.
Sorry for any inconvenience!
If you have any questions or issues at all - please contact us. We're really here to help.
Use the form at the right, email us at [email protected] or give us a ring at 617-718-2999
Company details
Store title
123 Street name E.
City, State/Province
Country

Store 2 title
123 Street name E.
City, State/Province
Country


Mon-Fri: 9am to 8pm
Sat: 11am to 6pm
Sun: 11am to 5pm
Frequently asked questions
1.

Website Questions

1.1

How can I browse by category?
Mouse over the "Shop" menu at the top of the screen and wait a beat. A drop-down of categories and sub-categories will display and you can browse from there.
Although we're working on implementing other ways - the only way our current site support is to use the drop-down that shows when you mouse over, and wait on, the "Shop" menu.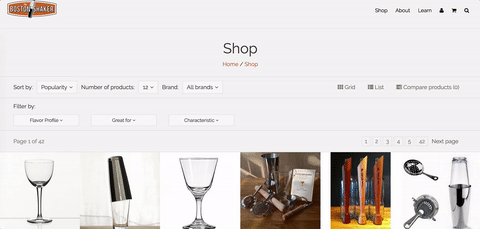 With our most recent website move we needed to change our service providers. That unfortunately means that your old username and password aren't active anymore and you'll need to re-create it.
If you use the same email address that you've used in the past it'll be easy for us to look up old information in our archives and answer any questions you have about old orders or information.
Apologies for this, but the good news it the new system gives us much more flexibility and ability to offer rewards and promotions for our users so a new account is a great first step to being on the receiving end of those.
1.3
Where's my order history?
We still have it!
Unfortunately we couldn't migrate it from our old website, though. If there's anything you'd like us to look up for you please contact us at [email protected] and we're happy to get you any information you need.
2.

Gift Cards

2.1

Can I use my gift card online?
We so want you to be able to, but unfortunately not at this time.
We agree, it stinks.
We haven't found a platform that lets us use in store gift cards and online gift cards together. If you know of one, please let us know - we're all ears!
In the meantime, you can place an order via phone and we'll apply the gift card and let you know the balance.
2.2
Can I buy a gift card online?
Yes you can!
When you place your order we'll make up a gift card in a little pack just like we do if you walked into the shop and mail it you you.
We mail them for free, but the website can get finicky about it unless there's other items in your card. If it tries to charge you shipping just make sure your billing and shipping information are correct and choose "Store Pickup" as your shipping option. We'll be sure to get it in the mail or contact you if we have any questions!
Sorry for the inconvenience - it really bums us out too.
3.

Shipping

3.1

How long between when my order is placed until it's on it's way to me?

We aim to pick and pull each order when it comes into our shop and ship all items out within 3 business days of getting it. (Although we try to ship same or next day when at all possible.)

If you don't get a shipment notification from us within three days of your order, please contact us and let us know. Technology glitchs do happen and we're only human and we'd hate to keep things held up any longer than nessisary!

3.2

Do you ship internationally?

Due to complext customs rules, tarrifs and fees we don't ship internationally at this time. We do hope to someday so please follow us on social media and subscribe to our newsletter to be updated when we can!